Harvey, his wife Chiku, Charlie,
our guide Sara from the Forest Cafe in Jinghong,
Peter and I set out on a trekking adventure
to a Bulang minority village in the deep south
of the Yunnan province.
Here they are in the market of Xiling,
close to the Burmese border.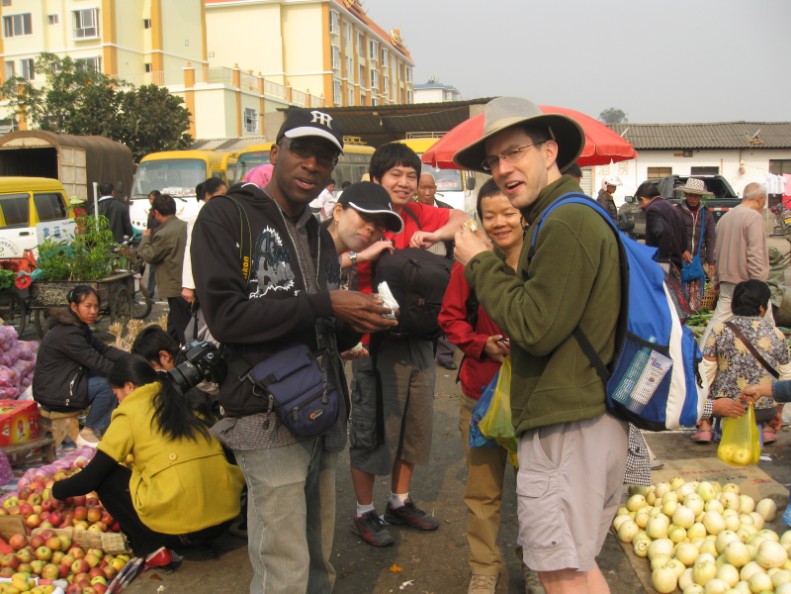 From Jinghong we travelled by bus to Xiding,
via Menghai and Menghun.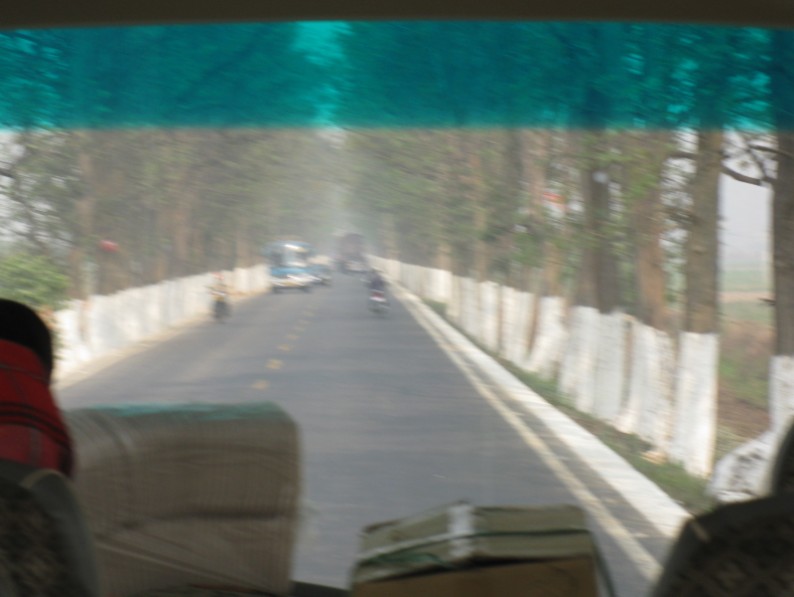 High up in the mountains it was off the bus and on our way.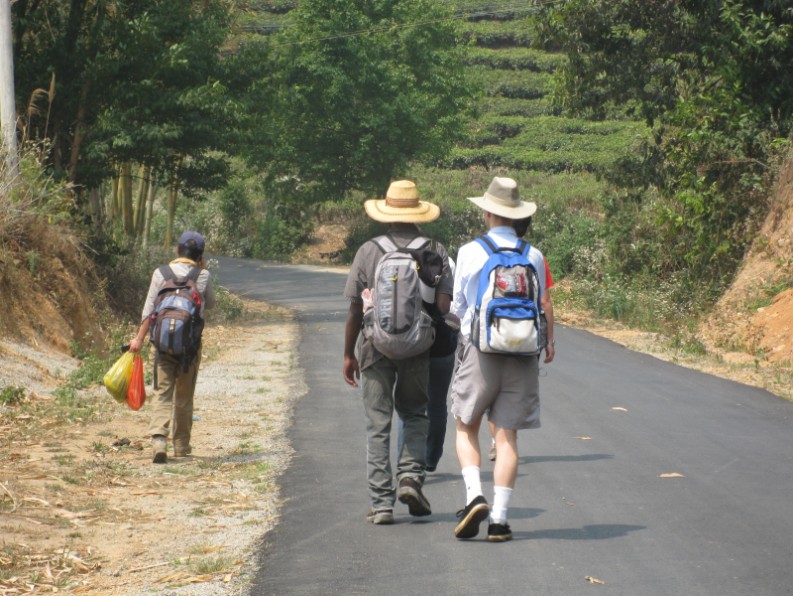 Not long and the first rest was needed.
Myself, Peter, Charlie, Harvey, and Sara.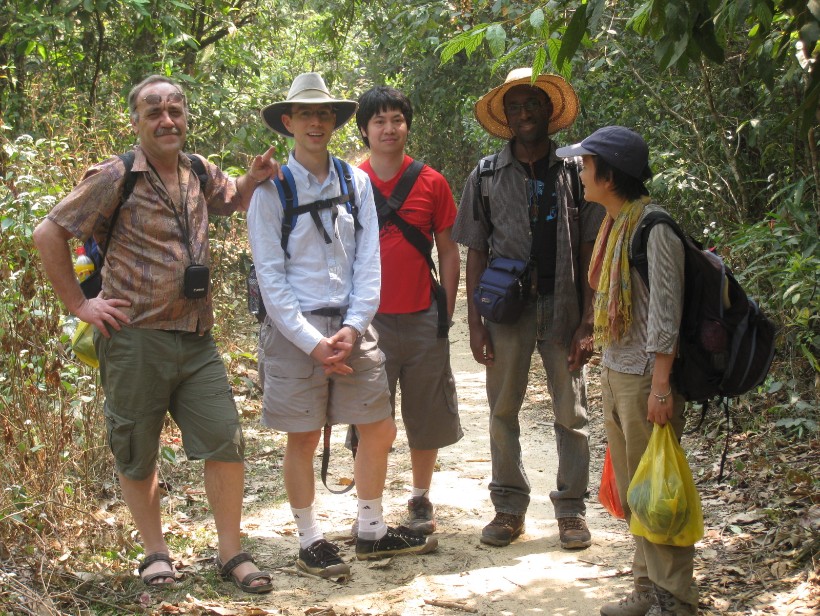 We came across this sign that confirmed that we were on the right track / trek.
Not that we needed any confirmation.
Sara obviously knew where she was going.
And then we had the first sight of our destination.
One of the Bulang villages nestling on the side of a mountain across the valley.
On our way we passed other villages.
As can be seen here,
satellite dishes have been in use here for quite some time.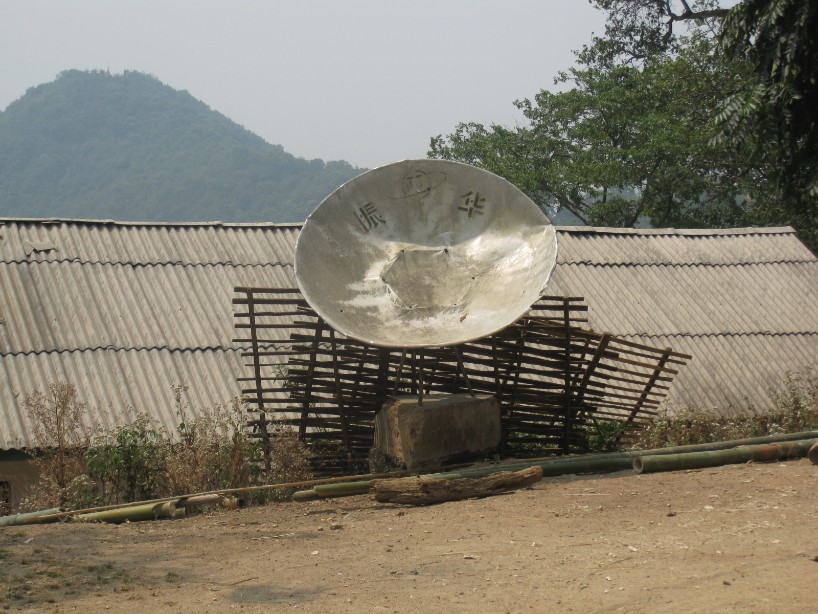 The monks at the local temple were friendly and, as always,
Harvey soon had made some new friends and gathered a large fan base.
Later we found out that it was not only his amicable disposition
that was the main attraction, but indeed his teeth.
Him being such an easy-going person,
he was not perturbed by the news at all.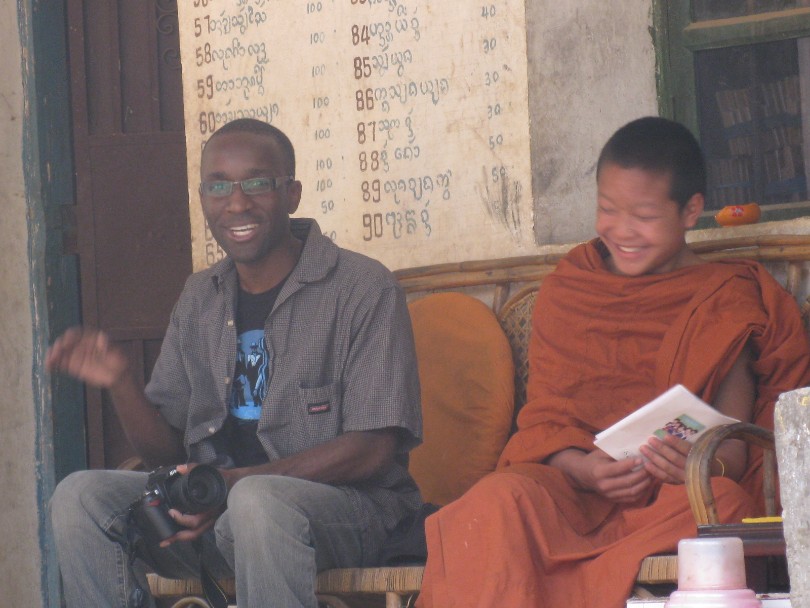 Our destination drew closer as we wound our way
through the sugarcane and maize fields.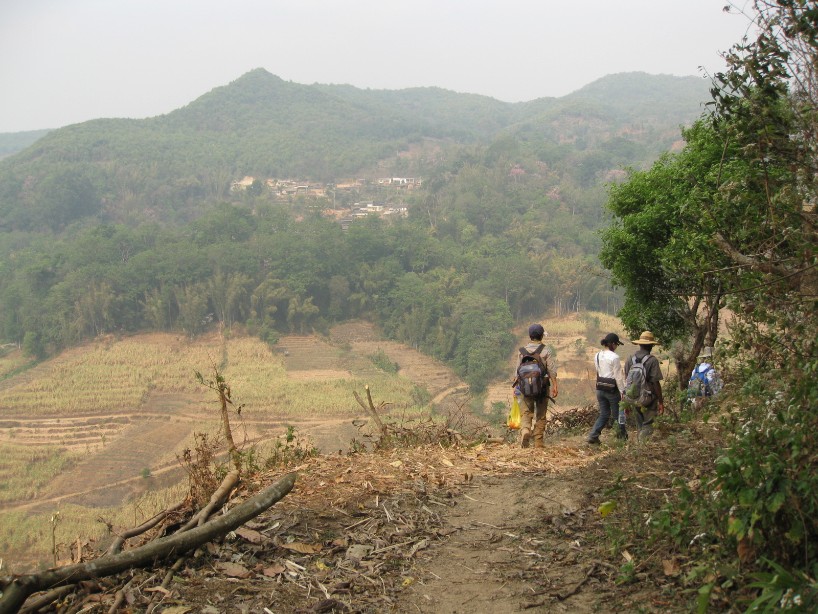 And then, at last, there it was. A typical Bulang village.
Down the "street" we went to meet our hosts for the night.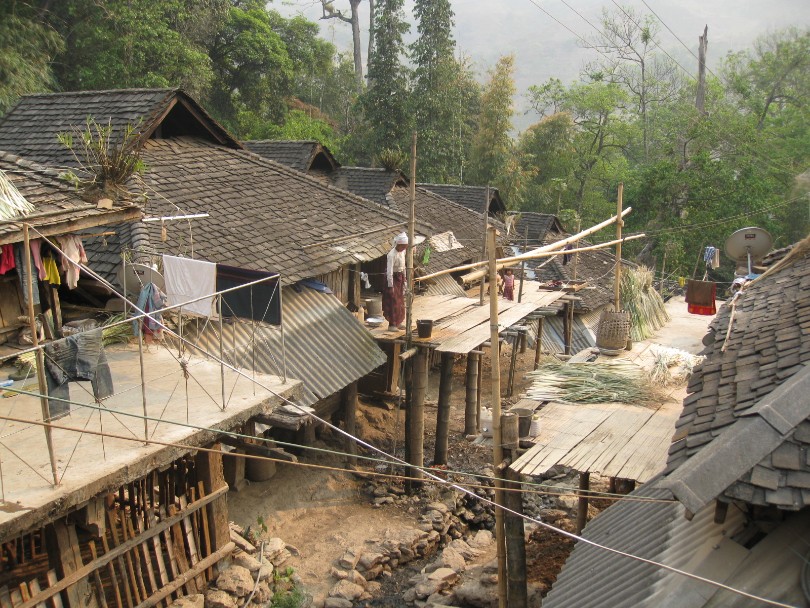 Happy to find that the house had a balcony, we quickly settled in.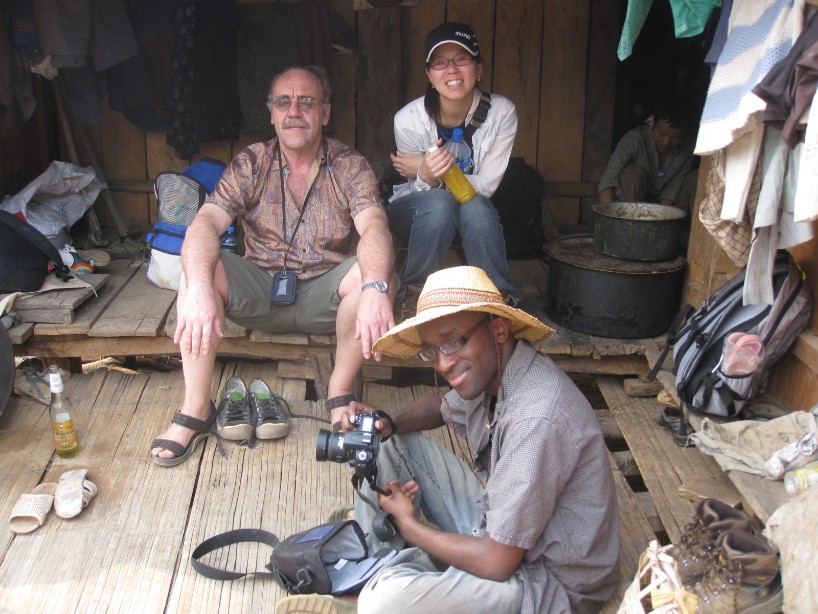 Save for one lady, the neighbours had not yet returned from the fields,
but we enjoyed the view onto the other balconies.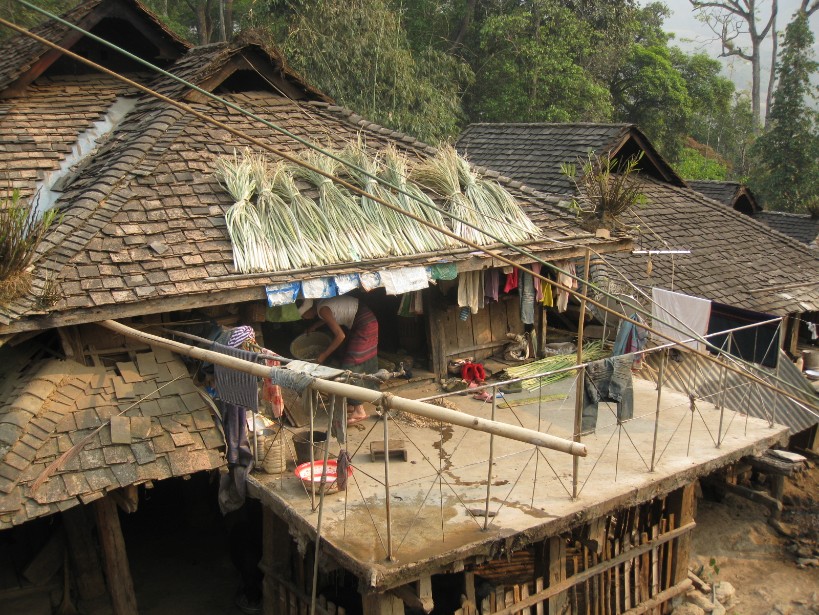 A typical house on stilts, with the animals living below.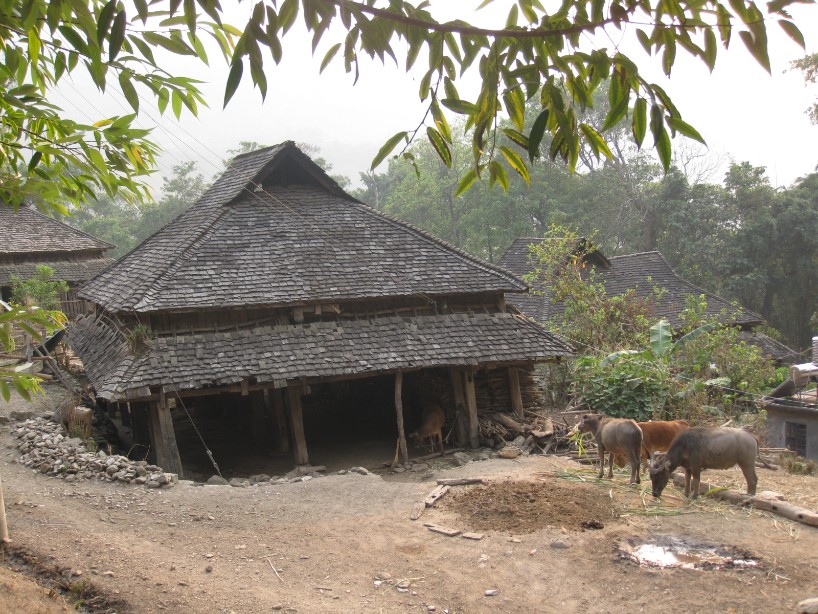 Accommodation is usually on a shared (with the chickens and pigs) basis,
but single quaters are available on request.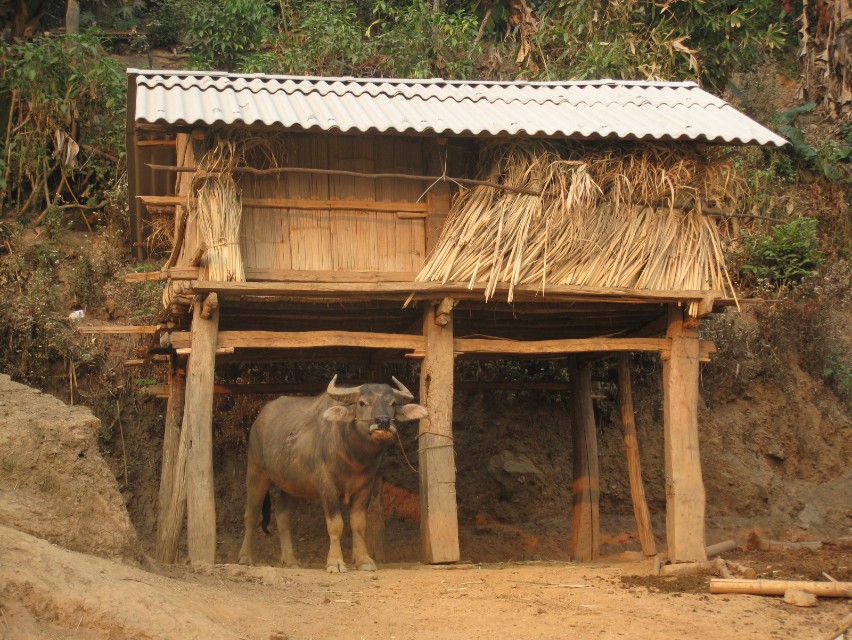 So we strolled down to the local pub.
(That's the building with the corrugated iron roof)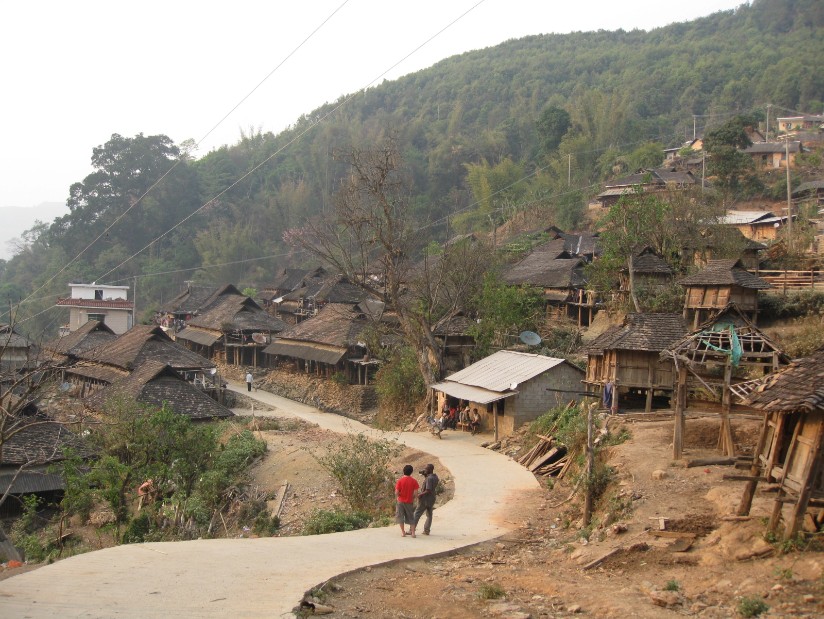 The Bulang minority live mainly in the mountains of Xiding and Bada
in the Xishuangbanna prefecture of Yunnan.
They keep to the mountains and farm with cotton,
sugarcane and Pu'er tea.
Harvey and I were happy with the service,
altough the barmaid did not tickle our fancy.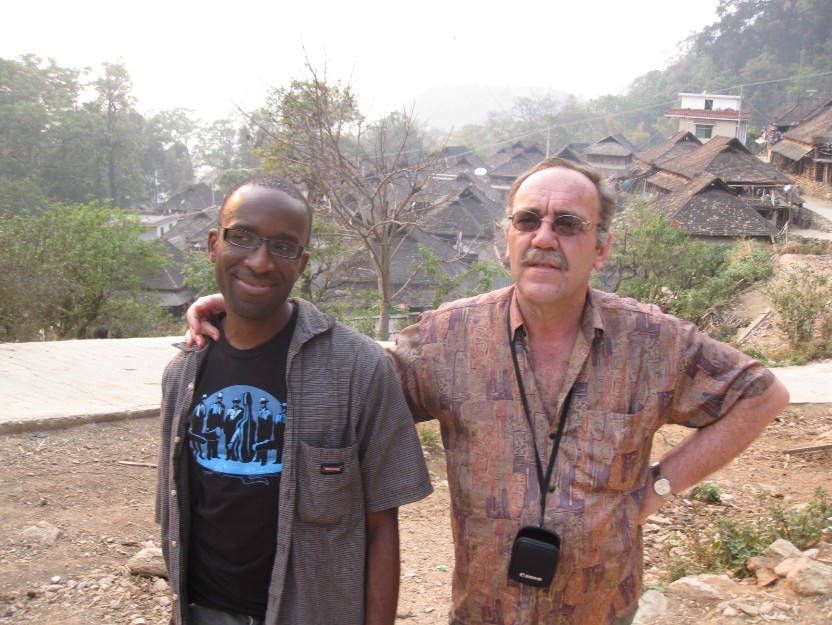 Happiness is: three generations on one motorcycle.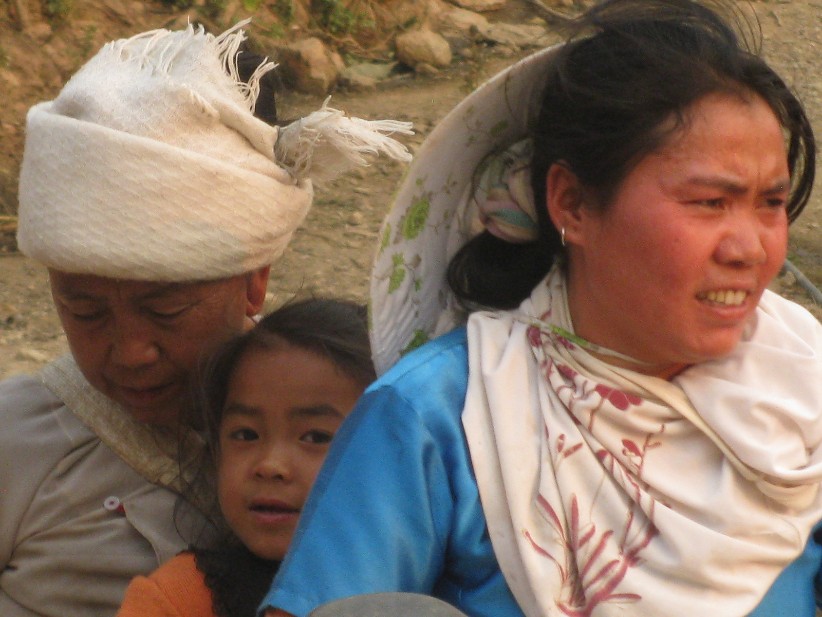 In the meantime dinner was being prepared.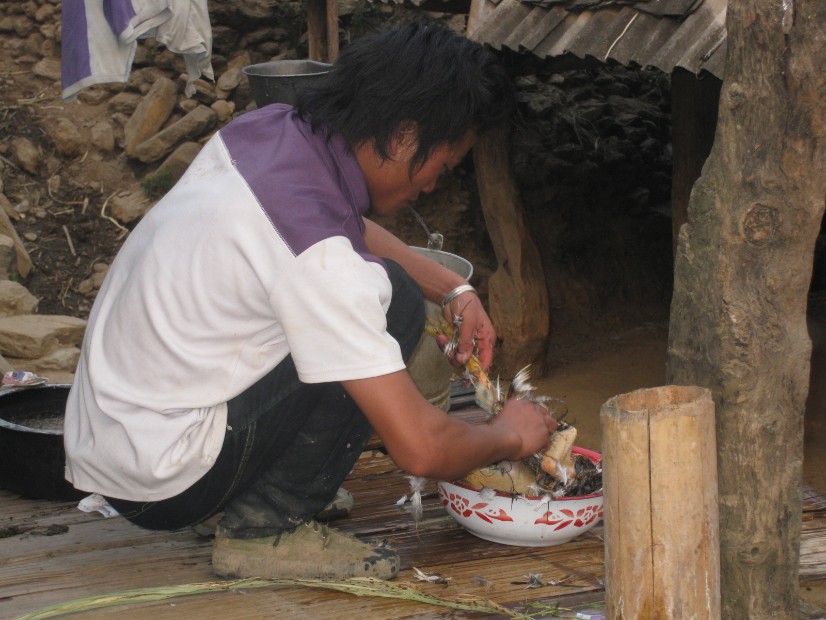 He seemed pleased that he was not dinner (this time).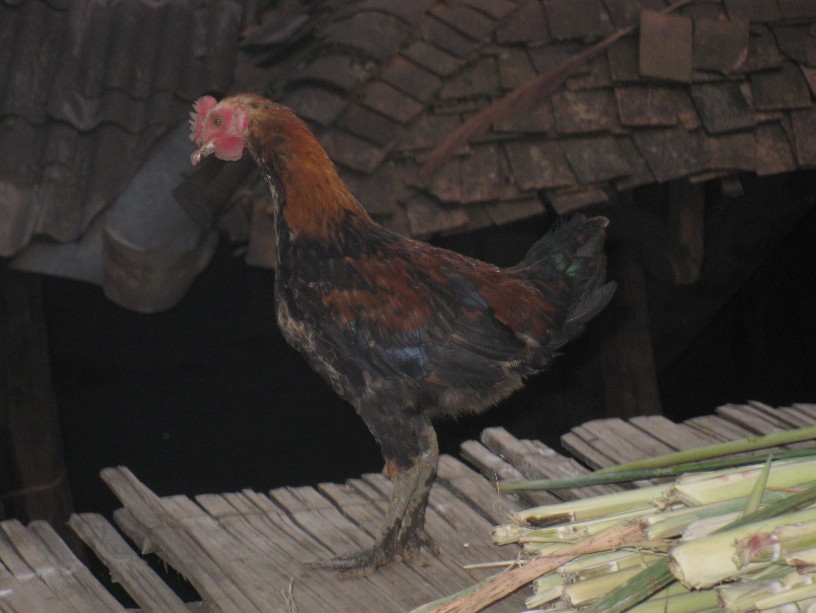 And next door, a local girl was getting ready for a night out in town.
Considering the appliances available in the kitchen ...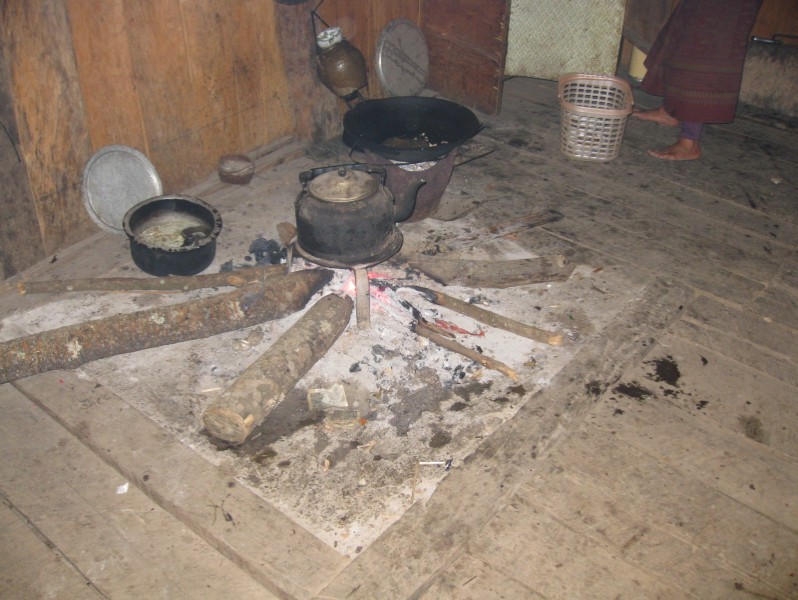 ... the chef produced a small miracle.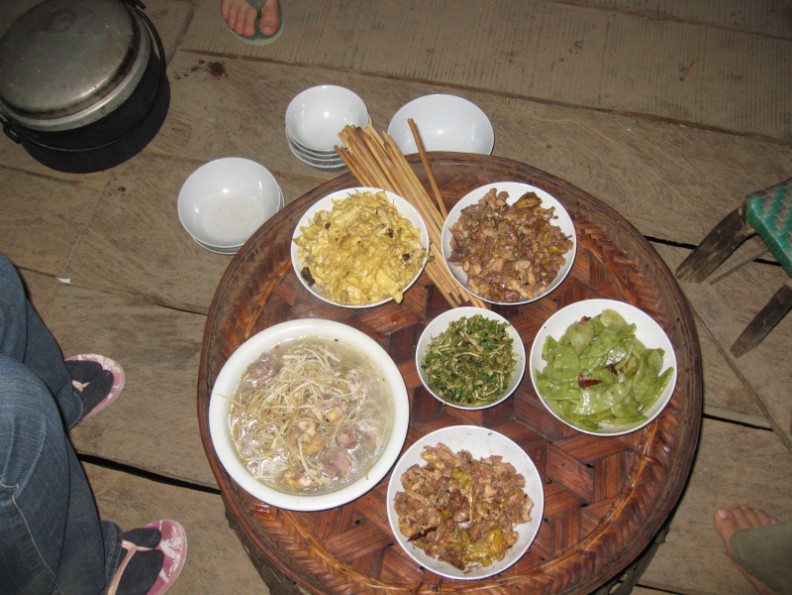 And soon we were all digging in.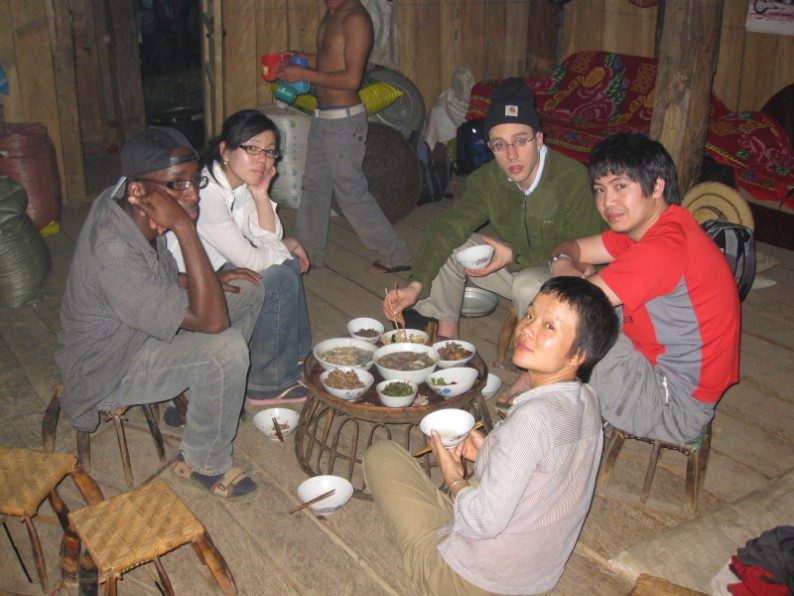 The proud mom and her two sons
(who invited some friends for the occasion),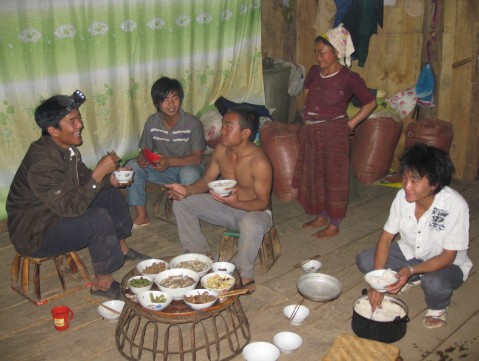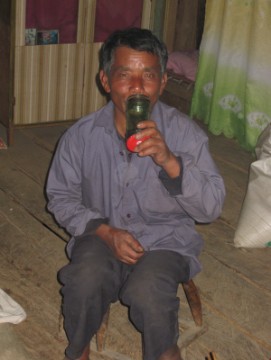 After dinner it was time to relax with a cup of tea.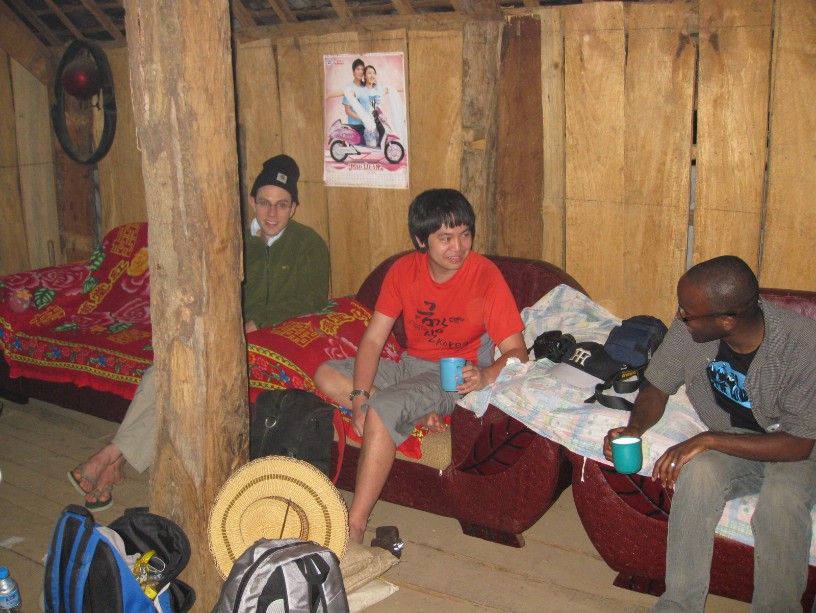 And everyone agreed: it's been a good day.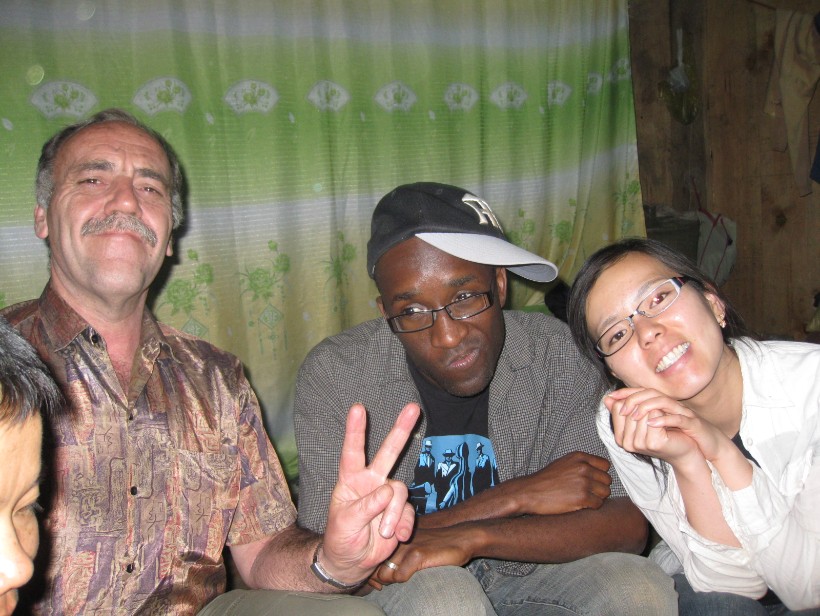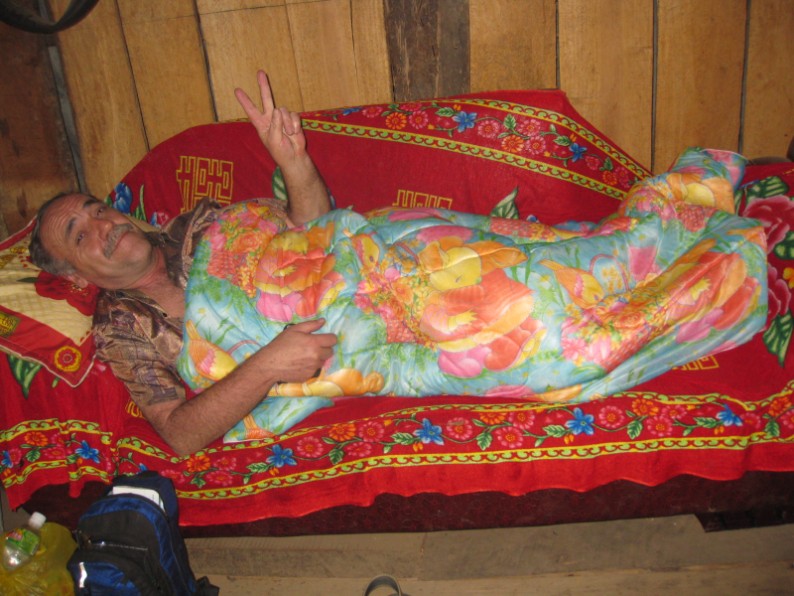 The next morning, after being woken by a real village cock,
we found others already preparing breakfast before the crack of dawn.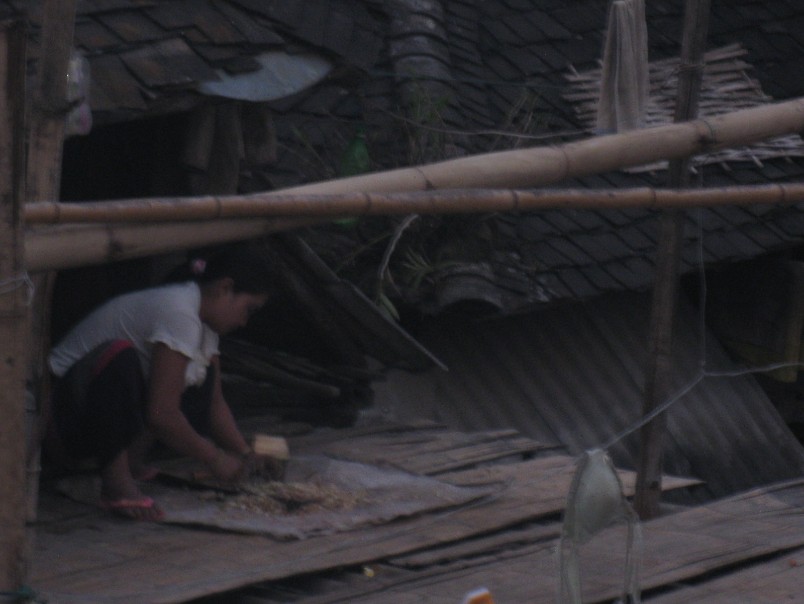 So we left our new friends behind,
and started the four hour trek back to the nearest town.
Pu'er tea is the most famous export product of the Yunnan province.
(According to Wikipedia, it's a type of tea made from a "large leaf" variety of the tea plant Camellia sinensis and named after Pu'er county near Simao, Yunnan. Unlike other teas that should ideally be consumed shortly after production, pu'er can be drunk immediately or aged for many years; pu'er teas are often now classified by year and region of production much like wine vintages.
While there are many counterfeit pu'ers on the market and real aged pu'er is difficult to find and identify, it is still possible to find pu'er that is 10 to 50 years old, as well as a few from the late Qing dynasty. Indeed, tea connoisseurs and speculators are willing to pay high prices for older pu'er, upwards of thousands of dollars per cake.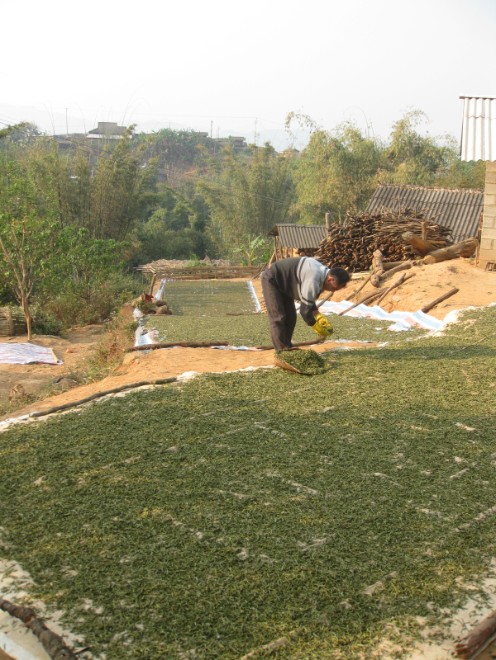 Passing through the villages,
we found that life on earth can indeed be heaven.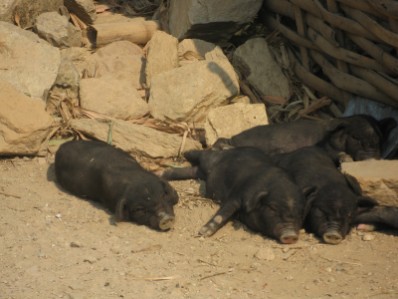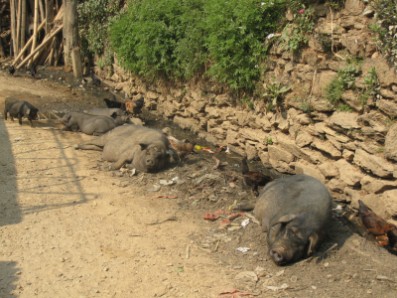 Sara pressed us hard, so a break on a cool veranda was always welcome.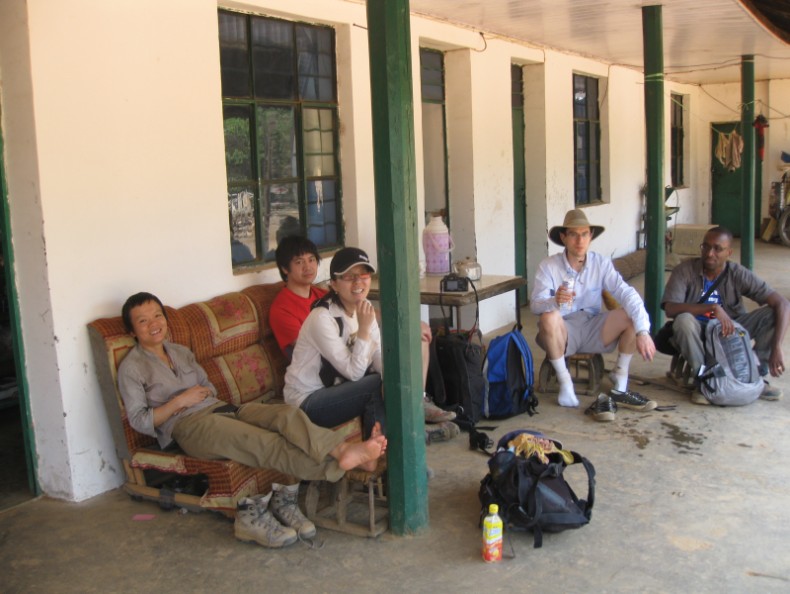 Descending from the mountain provided us with some spectacular views.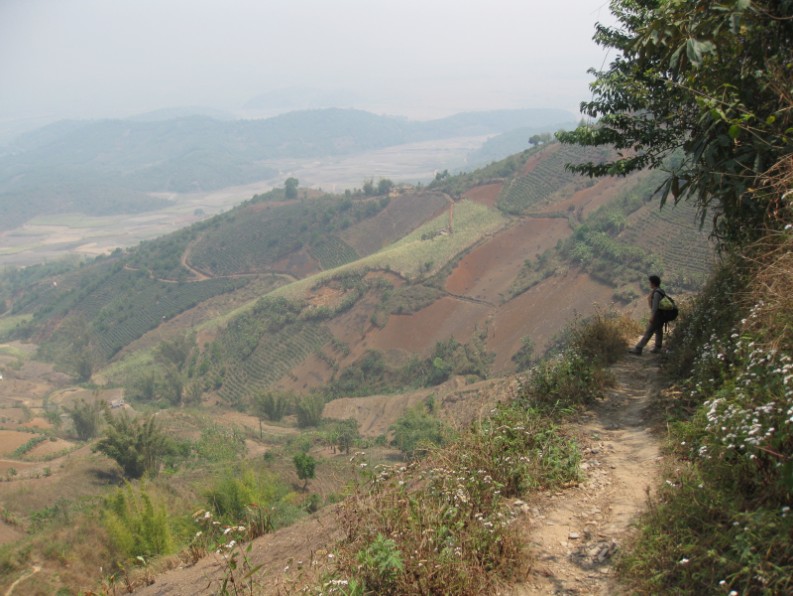 The going was slow and often treacherous ...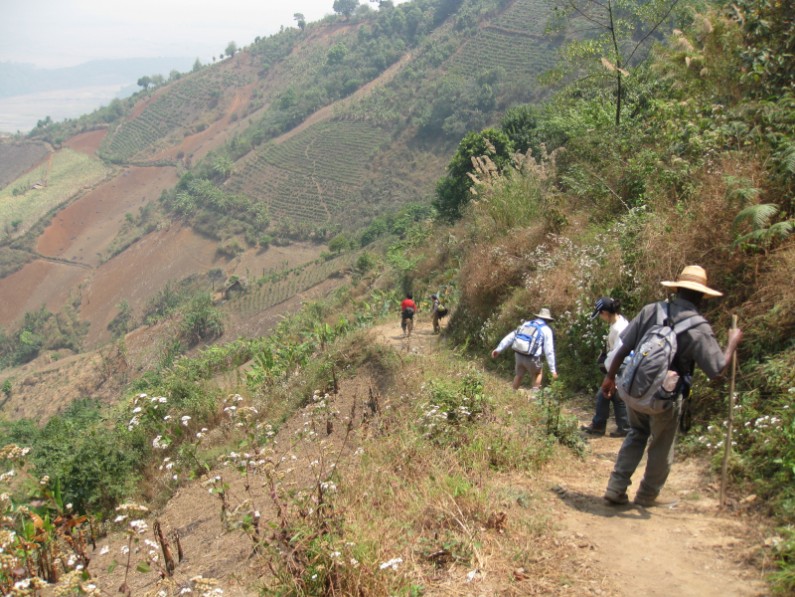 but a brick-making yard was a sign that the end was near ...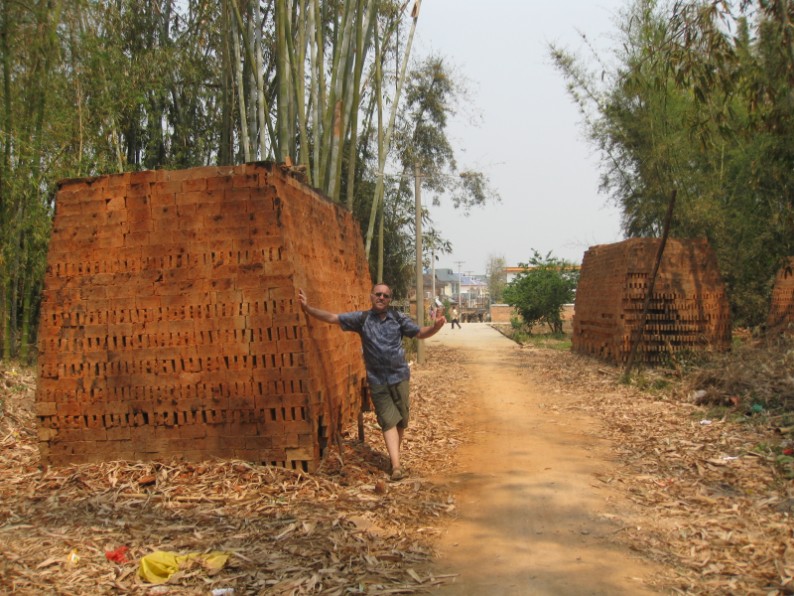 ... so the brightly colored houses of the first town was a welcome sight.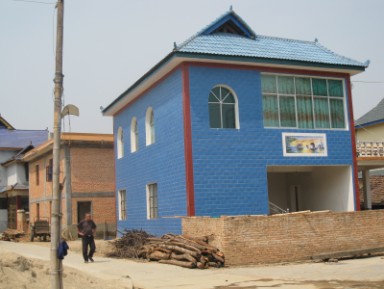 Initially transportation was a bit unconventional,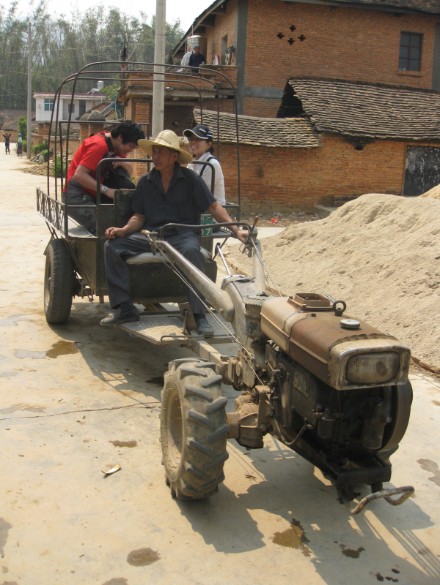 but later became more well-known.